We had a brilliant stay at Yurt Hideaway. Situated in a great location close to the best bits of the Mornington Peninsula, Yurt hideaway has everything you need for some much needed relaxation and escapism. Whilst there, make sure you check out Merchant & Maker for brunch and the walk from Cape Schanck to Bushrangers Bay for a beautiful beach.
– Joe on Riparide, Nov 2019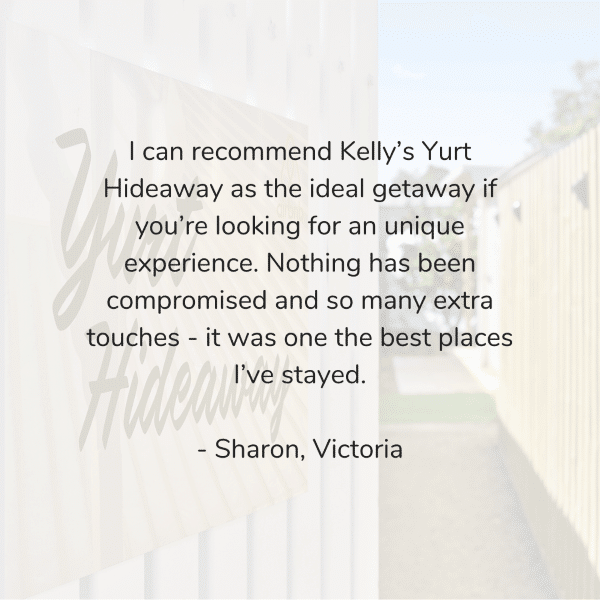 Loved it! We stayed at the yurt for three days and absolutely loved it. Kelly was a great host, and has made the space perfect for a couples getaway. We even got a little brekkie & chocolate hamper which was lovely. And the yurt itself is gorgeous.
– Liz on Airbnb, Jan 2020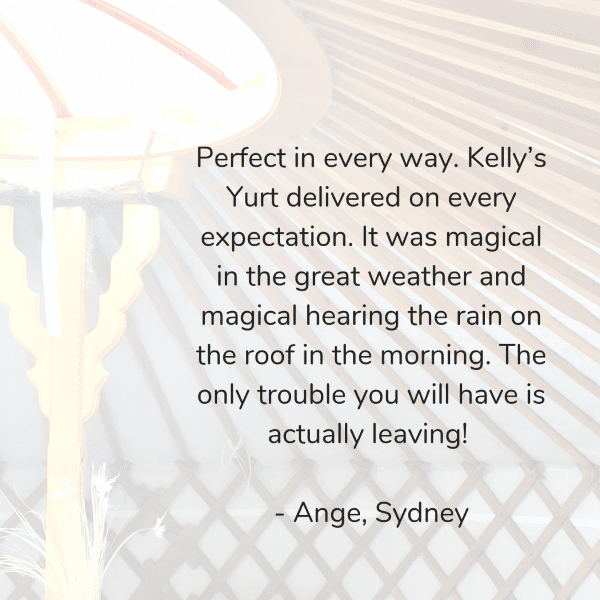 Kelly's place is one of the most beautiful Airbnb's I've stayed in, I will 100% be coming back and recommending to my friends, the extra little touches and attention to detail everywhere far exceeds perfection. Kelly as a host is also incredibly caring and easy to communicate with!
– Eva on Airbnb, Dec 2019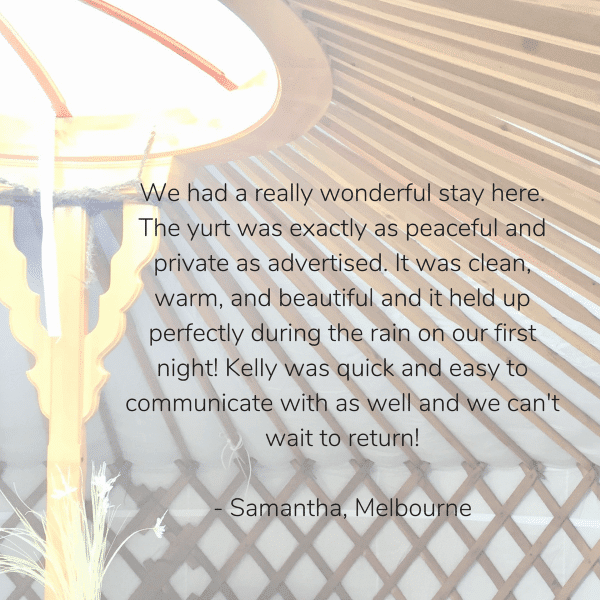 I haven't stopped talking about how much I loved staying here. Stayed at the yurt for two nights and I felt like it wasn't enough. The little touches Kelly has left makes it feel so cozy and homey. She has really done an amazing job and we will 100% be back.
– Caitlyn on Riparide, Feb 2019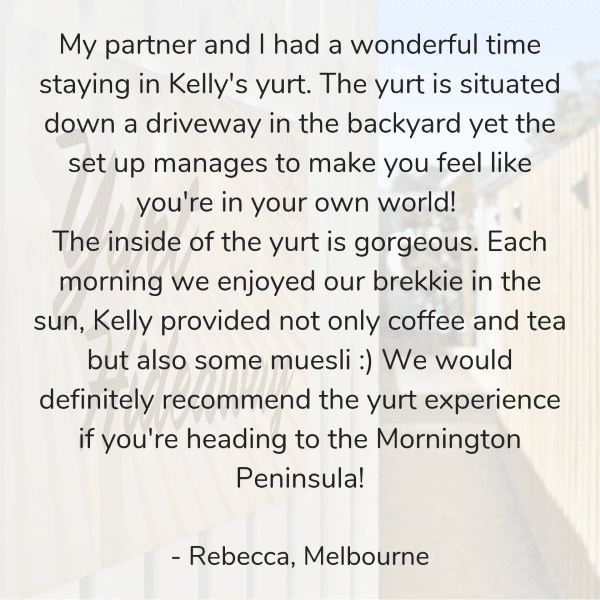 Fantastic, 10/10 stay. My partner & I had a wonderful stay at Kelly's yurt. The place was spacious, private, clean, unique and homely. All the minor details really made our stay top notch. The bathroom was great and all the amenities were environmentally friendly. I would highly recommend to come and stay here. It's so close to the hot springs and Kelly has made many local recommendations which proved really useful.
– Martin on Airbnb, Nov 2019
Check Availability & Book Now on Riparide!
The yurt is just gorgeous and felt like we were staying in our own little piece of luxury. It is private and quiet and perfect for a romantic getaway. Kelly was the perfect host. Leaving us to our privacy while only being a text message away if we needed anything. I would 100% stay again.
– Nic on Airbnb, Mar 2019
The yurt hideaway is such an awesome place to stay! The neighborhood was really peaceful and the space itself is so unique and tranquil, we felt such a sense of calm hanging out in the yurt. Everything is set up so well inside the yurt, the bed was comfy and there is ample room for two people. The temperature remained constant throughout the day, we had no issues with it being too hot or too cold. There is a fan provided to circulate the air which was good. The outdoor kitchen was super fun to hang out in as-well, and we spent most Nights BBQing up a storm on the electric BBQ, which is provide As part of the outdoor kitchen. The bathroom facilities are really great also, everything was clean and ready to use. The beach is only a short walk down the road, so easy if you just want to pop down for a quick swim. Kelly was the perfect host, quick to respond and easy to communicate with. We loved our stay in the yurt and hope to be back again soon!
– Mylie on Airbnb, Jan 2019
Kelly's Yurt is the cutest! You will leave wanting to build one in your backyard it's that amazing! It looks exactly like the pictures & has such beautiful little touches that make you want to stay inside the whole time! We spent 2 nights in the Yurt but didn't want to leave! It's well located & Kelly's communication was fantastic! You have to stay in the Yurt if your down on the peninsula!
– Lisa on Airbnb, Mar 2019